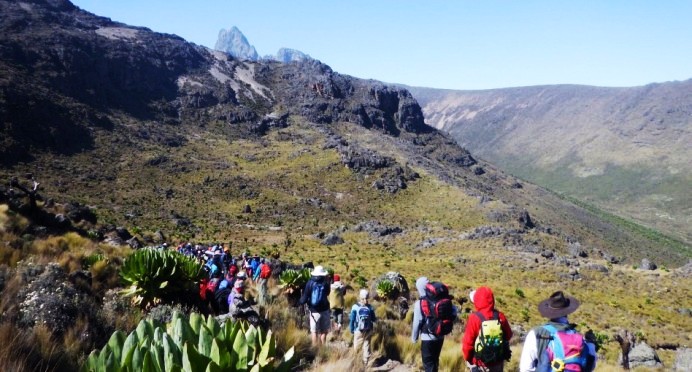 Day 1 : Departure from Nairobi is at 0900 hrs(either from hotel or airport) to Nanyuki ,and stop over at the Equator briefly. Continue to Nanyuki where you check in your hotel.
Afternoon is spend preparing for the hike.A COMPLIMENTARY walking tour to the EQUATOR. Dinner and overnight at the Nanyuki Simbas lodge.
Day2: After breakfast transfer to Sirimon gate and hike to Old Moses camp for overnight (3300m), 3 to 4 hrs hikes (9kms). Old Moses is where you acclimatize as you also come across different vegetation.
Day 3: After breakfast Hike to Shipton's camp (4200m )through Liki and Makinders valley for overnight (6 to 8 hrs hikes) 17 kms.
Day 4: Attempt point Lenana (4985m) at 0300 hrs and descend directly to Old Moses (Judmair) Camp for overnight
Day 5: After breakfast descend to Sirimon Park Gate to catch your vehicle to your next destination