For just USD750 ONLY have a thrilling trek through Sirimon route, which is more scenic than Naromoru and is on the drier side of the mountain hence offers some of the finest walking. Climb up through forest into a wide ridge approach to the summit area. The route starts on the northwest side of the mountain near Nanyuki. Access is adequate and the bunk house facilities are the best on this side of the mountain.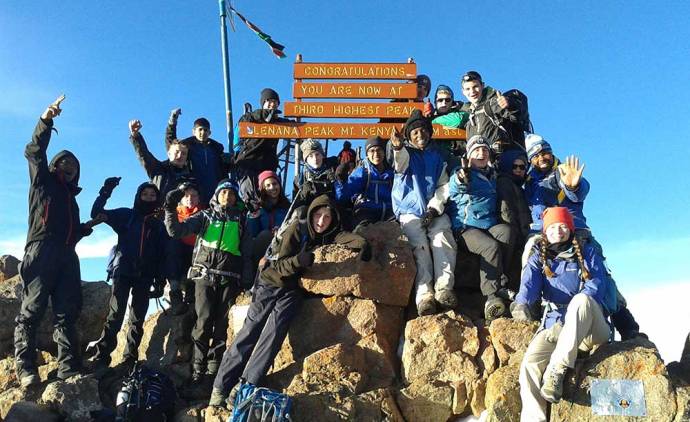 Day 1: Nairobi/Nanyuki/Old Moses
Departure from Nairobi at 0730 hrs from your hotel and transfer to Nanyuki, arriving after 3 hours. Later transfer to Sirimon gate and hike to Old Moses Mountain Hut for overnight (3300m), 3 to 4 hrs hikes (9kms). Old Moses camp is where you acclimatize as you also come across different vegetation. It is located at an elevation of 3300m. the Old Moses Mountain Hut is where most hikers spend their first night of the trek. At the Old Moses you have the option of sleep in dormitory like bunkers or camping in the spacious grounds surrounding it. Both huts have a kitchen and dining area plus a clean and well maintained bathroom.
Day 2: Old Moses – Shiptons
After breakfast Hike to Shiptons camp (4200m) through Liki and Makinders valley for overnight (6 to 8 hrs hikes). The Shiptons Camp is located just below the main peaks of Mount Kenya. Here you can also sleep in bunkers within the mountain hut. The camp is located at an elevation of 4200 meters and is used by most hikers on their final day before summiting Pt. Lenana.
Day 3: Full Day acclimatization.
For better acclimatization you can take a rest day at the Shipton camp. Short walks/day hikes are possible on the summit climb to Oblong and Hausberg tarns gaining an elevation of 370m before returning to the camp for lunch. Afternoon is at leisure. N.B: Climbing high and sleeping low is excellent for acclimatization – but you can do that almost as well toughing in the sun watching the eagles!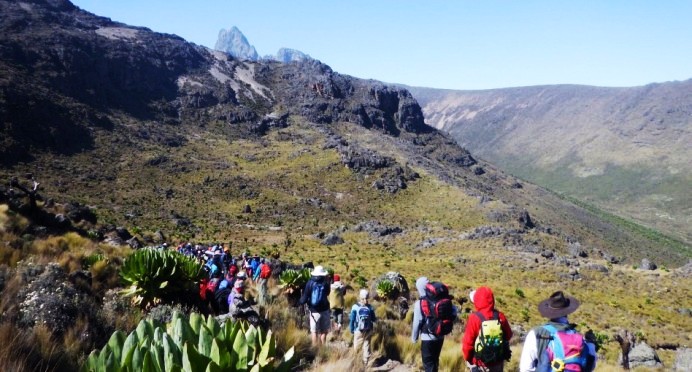 Day 4: Shipton Camp/Point Lenana/Judmaier Camp (Old Moses Camp) 9-10hrs, 16km
Leave at 3am up a steep stony quarry that cuts through a cliff clearing visible part towards lower Hall Tarns arriving point Lenana at 6:30am, take about 3hrs then after the sunrise start descending down to Shipton Camp, 2hrs, for breakfast and further, 4hrs, down to Old Moses Camp for dinner and overnight, B,L,D.
Day 5: Judamaier Camp (Old moses)/Sirimon/Nairobi 2-3hrs, 9km
After breakfast, walk down through the rainforest for 2 hours to connect with your transport vehicle back to Nairobi. (B&L)
Included in the price:
• Guarantee price/guarantee trek on confirmation
• Transfer to and from the base of the mountain
• Full board accommodation whilst on the trek.
• Meal plan as detailed: B=Breakfast, L=Lunch and D=Dinner
• Accommodations in camps/huts as per the itinerary
• All park entrance fees to include government taxes
• Service of an English speaking professional guide, porters and skilled cook
• Treated water on the trek.
• On completion, successful climb Certificate
• Start and finish Nairobi
Excluded:
• Laundry, sleeping bags, beverages/Drinks, accommodation before the trek and climbing gears
• International flights
• Visas to Kenya
• Items of personal nature
• Any other extras not detailed in the above itinerary