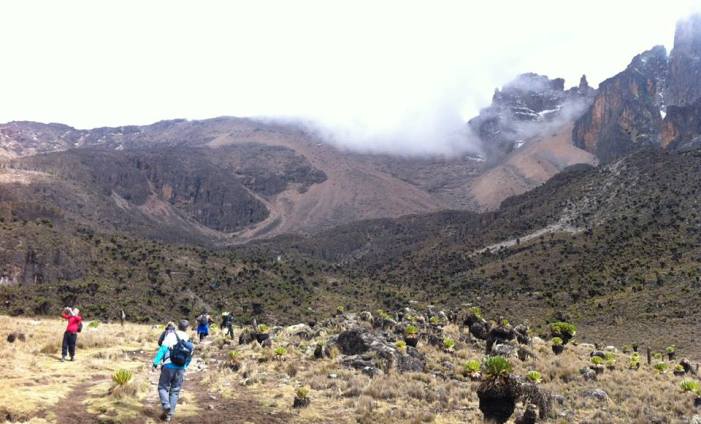 Day 1:Nairobi-Nanyuki
Transfer from Nairobi is at 09:00 hrs to Nanyuki .A COMPLIMENTARY walking tour to the EQUATOR. dinner and overnight at Simbas lodge.
Day 2: Sirimon gate to Judmaier camp
After Breakfast drive to Sirimon Park gate and trek for 3 – 4 hours to Old Moses Camp (Judmeier) through a beautiful forest with East African Pencil Cedar trees, Poducarpus trees and the giant Hygenia trees. From Judmeier camp you can see the summits of Batian andNelion peaks: 9kms
Day 3 :Old Moses (Judmaier) camp to Shiptons camp
This is about a 6 – 8 hour hike crossing Liki and Mackinders valleys, there is a great view of Tereri and Sendeo peaks. And also a great view of Nanyuki town and beautiful terrain. Shipton's camp has also an excellent setting with the north faces of Nelion peak and Batian peak. 13kms
Day 4: Shipton's camp to Point Lenana and then descend to Mintos Camp (Halls Tarns camp).
Sunrise Mt Kenya The most rewarding scnery This hike is about 4 and half hours hike through some of the most spectacular sceneries like Gorges valley the Halls Tarns and the Lake Elies at a far distance. Overnight at Mintos Campisite.
Day 5: Mintos (Halls tarns camp) to Meru Mt.Kenya Lodge (Bandas)
This hike is anywhere between 4 – 6 hours. This area has spectacular views down into the Gorges valley with Lake Michaelson and Vivienne falls, and across on the other side you can see Ithanguni peak, Rotundu peaks and the Giant Flat — top Kilingo hill table. 18kms
Day 6: Chogoria gate to Chogoria town
About 6 – 8 hours, on dirt roads through a thick bamboo forest and tropical forest. The
forest is really beautiful with chances of seeing wildlife and Columbus monkeys. Transfer to Nairobi arriving late afternoon.32kms or walk half way to take 4×4.