Day 1: Transfer to Lake Mburo National Park
Head from Kampala to Lake Mburo National Park, located in the Southern part of Uganda. Before reaching the park, have a magnificence of the game driveand arrive in time for a boat ride on Lake Mburo. The acacia forests and wetlands are home to an impressive variety of antelope including the impala and giant eland.
The lake is rich with a variety of animals and plant species which will be viewed clearly as on the boat trip. Expect to see hippopotami and birds like Black crake, Heron, Pelicans, fish eagle, African Fin foot, cormorant, you may also sight the rare Shoebill Stork and all these will furnish your visit with pride.
Day 2: Game drives and transfer to Bwindi Impenetrable Forest
After having breakfast, go for game viewing because the park is famous for its richness in biodiversity. It has an estimate of 68 different species of mammals such as Impala, jackals, Buffalo, Eland, leopard, Topi, Hyenas and Zebra.
The five lakes within the park attract crocodiles, hippos, and a variety of water birds, while the fringing swamps hide secretive papyrus specialists, such as the sitatunga antelope and red, black and yellow papyrus Gonalek. After the view, continue to Bwindi Forest and on arrival relax while preparing for the following day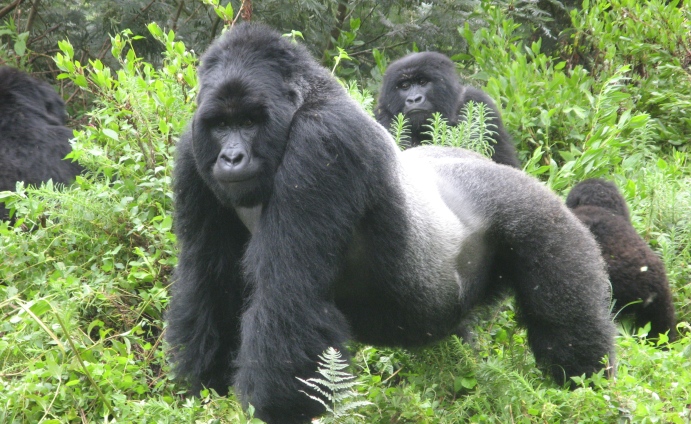 Day 3: Gorilla trekking
Enter the sanctuary at sunrise and enjoy the beauty and freshness of the forest, home of the mountain gorillas. After briefing by the qualified guides, continue through dense bush to trek for these endangered animals called the great Apes (Gorillas). Other primates also live in the forest including the, black-and-white colobus monkey, red tail monkey and chimpanzee. This can be very tiring due to the fact that the ground is steep and thickly forested in Return to the accommodation for relaxation or have an optional community walk.
Day 4: Transfer to Queen Elizabeth National Park
After breakfast, transfer toQueen Elizabeth National Park, which is located at the foot of the Rwenzoris Mountains, protecting over 200 sq km of Rift Valley Savanna, interspersed with patches of forest and crater lakes thus an thought for a safari. At your arrival, carry out a launch trip along the Kazinga Channel. scrutinize the concentration of water birds, crocodiles and hippos which is remarkable. The bird species includes the 11 types of king fisher, black bee- eater and several species of falcons, eagles and the raptors and many more.
Day 5: Game drive and chimpanzee tracking
Wake up early in the morning and go for a game drive to see wildlife like lions, Uganda Kobs, elephants, spotted hyenas and the leopard plus many others. In the afternoon, head to Kyambura gorge for the chimpanzee trekking.
Day 6: Departure
After breakfast , depart for Kampala with a packed lunch and arrive during the late afternoon