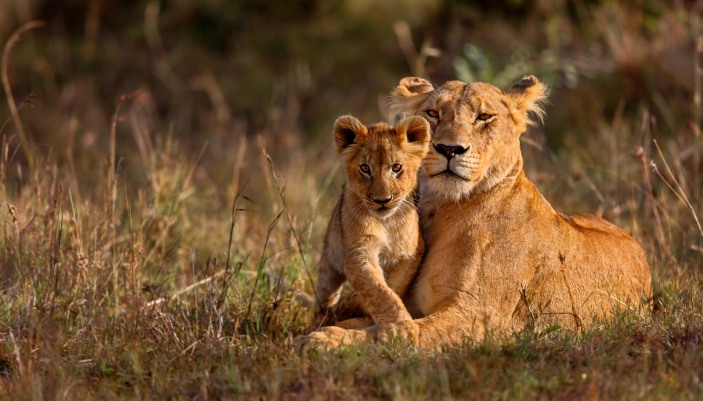 Cost based on 2 persons sharing a double room: USD2650 per person
Child 3-12 years pays 75% of adult rate
Below 3years sharing a room with parents gets a complimentary service
Highlights
Witness the wonders of Africa's Big5 in their natural habitat.
Experience a sunrise walking safaris in Crater Lake Sanctuary.
Visit 3 of the most popular parks in Kenya.
Experience Kenya's outstanding hospitality in 4star lodges and camps.
Experience Kenya's unique and diverse culture including Masai community.
Take selfies with wildlife at the background
Get very close to wildlife on a walking or cycling safari in Hell'sgate.
You may Experience Wildebeest migration if you visit June to October.
Enjoy a variety of wildlife songs as you sleep inside the jungle.
Day by Day
Day 1:Journey from Nairobi to Masai Mara National Reserve
Pick up from your Nairobi Hotel/airport at around 0745hrs and drive through The Great African Rift Valley where you will have a stopover at the Great Rift Valley view point for photo session with the beautiful sceneries of the valley then proceed to Masai Mara, arrive in time for lunch at AA Mara Lodge or similar.
After buffet lunch get settled, relax and reflesh in your cottage, later at around 1600hrs, an evening game drive will follow to explore the famous game reserve famous for its variety of animals like black manned lions, cheetahs, elephants, buffaloes and other animals of the same order.
The accent here is on the Masai people and the fabulous wealth of wildlife, birdlife, and natural flora to be found in the fabled Masai Mara Game Reserve. At around 1800hrs, drive back to Lodge for Dinner and overnight.
Meals & Drinks Included: Bottle Water, Lunch and Dinner.
Day 2:Game drives in Masai Mara National Reserve
Set off early at around 0700hrs for a full day of game drives to witness the animal kingdom at its most active hour, on your way to the famous Mara River where millions of wildebeest and Zebras cross from Serengeti to Masai Mara each year.
Search for the park's large populations of wildebeest, rhinoceros, buffalo, lion, leopards, elephants, hippos, cheetahs, zebras, impalas, gazelles, hartebeests, warthogs, ostriches, topis, Masai giraffes and many more. Enjoy packed lunch inside the park surrounded by beautiful sceneries and wildlife. Finalize your full day game drives at around 1600hrs.
On this day there is an option of a Hot Air balloon safari early in the morning then continue with game drives (USD450 per person). You will be picked from your lodge at around 0400hrs then transferred to the launch site, where you will begin your ascent a few minutes before sunrise. The hot air balloon safari will take about an hour depending on conditions and the pilot will land the balloon in a safe place free from animals and trees. This is a perfect time for wildlife photography from an aerial view. Meals & overnight at AA Mara Lodge or similar.
Meals & Drinks Included: Bottle Water, Dinner, Breakfast, Lunch
Day 3:Adventurous Journey to Lake Nakuru National Park
After breakfast drive to Lake Nakuru arriving in Lake Nakuru Lodge/Flamingo Hill Luxury Camp/similar in time for lunch. After lunch relax and refresh in your comfortable tents or by the swimming pool.
Lake Nakuru's fame is anchored on its flamingo's and the over 400 species of birds found here. The lake itself is a soda lake on the floor of the rift valley. The sight of the at times millions of flamingos is quite spectacular. From a distance the lake appears ringed in pink. The Lake has also earned a reputation as an important haven for endangered species- particularly the Rothschild Giraffe and the black and white rhino. Lions, waterbuck, buffalo and baboons are all residents here. Later around 1600hrs start game drives in Lake Nakuru National Park until around 1830hrs. Then drive back to the camp for dinner and overnight.
Meal Plan: Breakfast, Lunch, Dinner & Drinking water.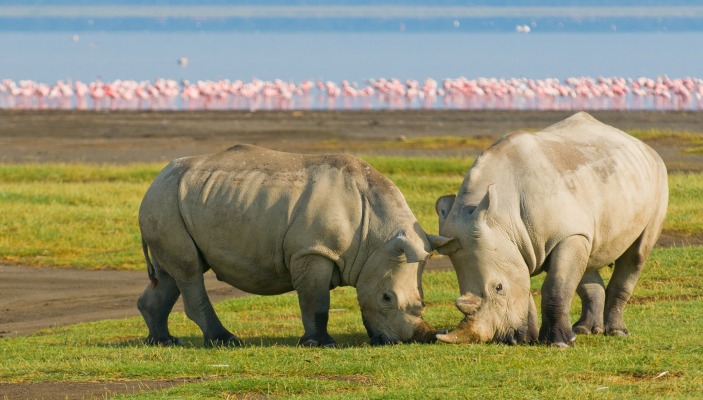 Day 4:Lake Nakuru to Crater Lake in Naivasha
After breakfast, proceed for an extensive morning game drive in Lake Nakuru National Park to see the many wildlife and birdlife that inhabit this unique park. Later depart Lake Nakuru and drive to Naivasha where you arrive at the gorgeous Crater Lake Camp in time for lunch.
Later in the evening, you will have a walking safari in the Crater Lake sanctuary where you get very close to wildlife like giraffes, zebras, impalas and many others.
Meals & Drinks Included: Bottle Water, Breakfast, Lunch and Dinner
Day 5:Transfer to Amboseli National Park
After breakfast, drive to Hell's Gate National Park where you have the option of a game drive in a Safari vehicle or ride bikes into the Park while taking selfies with the wildlife to be found here. Cycling in the Park is a great adventure as you get to ride the bikes for around 5 Kilometers before resting at a ranger's post. After a brief stop at the rangers post you leave the bike and start a walking safari (optional) for 2 hrs to enjoy the spectacular views of the gorge where a number of famous films like Lion King were based.
The park provides a variety of wildlife, unusual flora and many species of birds and is the only Kenyan Park where climbing, walking and biking are allowed. Animals seen here include Giraffes, Bushbucks, Dikdiks, Gazelles, Gnus, Hartebeests, Impalas, Klipspringers, Buffaloes, Hyraxes, Zebras, Hyenas, Jackals, Mongooses, Baboons, Monkeys and Porcupines amongst others.
Later depart the park and drive to Lake Naivasha for an optional boat ride payable direct. You will also enjoy your lunch around this place before proceeding to Amboseli where you arrive at AA Lodge Amboseli for dinner and overnight.

Meal Plan: Breakfast, Lunch, Dinner & Drinking water.
Day 6:Game drives in Amboseli National Park with great views of Mt. Kilimanjaro
After breakfast, start game drives in Amboseli National Park armed with your packed lunch to be served on top of observation hill where you have amazing views of the park and Mt. Kilimanjaro.
Amboseli National park is one of the most popular wildlife sanctuaries in Kenya. It is situated close to Kenya- Tanzania border, The Park lies at the foot of Mt. Kilimanjaro, the highest mountain in Africa (5,896m) whose snow-capped summit presents a splendid view on clear days. Amboseli National Park is often referred to as "The home of Elephants' some of the largest Elephant herds are found here.
The Game Park also contains vast groups of Zebras, Wildebeests, Giraffes, Buffalos, Hippos and Antelopes. Also to be found in Amboseli are lions, leopards, Cheetahs, and many species of plain game. Meals and overnight at AA Lodge Amboseli.
Meals & Drinks Included: Bottle Water, Breakfast, Lunch and Dinner.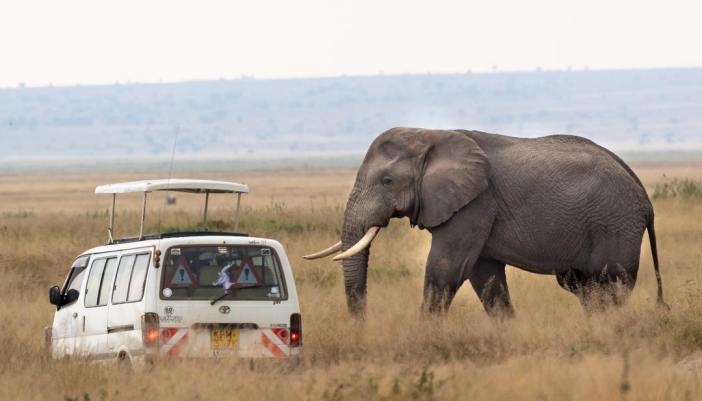 Day 7: End of the Adventurous Safari at Nairobi
This morning we rise early for good views of Mount Kilimanjaro before clouds build up over the summit. Amboseli is an excellent place to view a multitude of wildlife, including everything from Wildebeest to Giraffes to Baboons.
Later depart the park via Namanga, Kenya-Tanzania border route, with lunch en route to Nairobi. Drop off at a Nairobi Hotel of your choice or at Airport for your flight to the next destination marking the end of the safari with unforgettable memories. We strongly recommend a flight departure of beyond 2000hrs to avoid worries of missing your flight. Meal Plan: Breakfast, Lunch & Drinking Water.
Meals & Drinks Included: Breakfast, Lunch, Bottle Water.
Included
> All Park entry Fees
> Meals as mentioned in the itinerary
> Game drives as mentioned in the itinerary
> Services of an English/Chinese speaking driver guide
> Full board accommodation comfortable tents/rooms
> 2litre of bottled water per person per day during game drives
> Transport based on our customized safari Van with specially modified suspension, full-length photographic pop up roof and seats designed with seat.
Excluded
× Optional activities and excursions.
× Inoculation and personal insurance
× Hotel accommodation before and after the safari.
× Visas fees, Domestic & International Flights and airline taxes
× Hot Air Balloon safari over Mara Plains at USD500 per person
× Alcoholic &Soft Drinks, gratitudes/tips, laundry, and other personal expenses
× Items of personal nature such as beverages, telephone, Binoculars, postage etc.