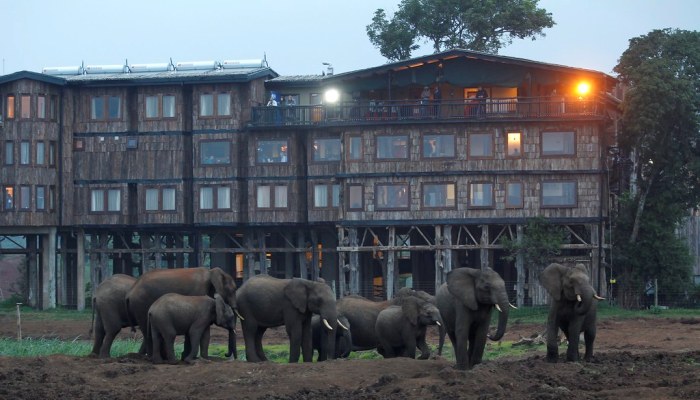 Highlights
Visit the Hotel where Queen Elizabeth slept as a princess and woke up as a queen.
Enjoy Wildlife right at your room while they are on a watering hole.
Get a chance to see the wonderful Big5 right at their natural habitat.
Get views of the highest mountains in Africa, Mount Kenya and Kilimanjaro.
Traverse through Central Kenya Rift Valley and Southern Kenya.
Witness amazing views of Rift Valley that starts from Israel to Mozambique.
Interact with the unique diverse Kenyan culture including Masai Community.
Visit the famous Mara River where crocodiles feast on migrating wildebeests.
Take selfies with wildlife at the background.
Enjoy a morning walking safari at Lake Naivasha.
Get a chance to see Africa's ugly five
Visit the famous Thomsons Falls.
Passby the equator.
Day by Day
Day 1:Start the Safari by visiting Treetop Lodge
Pick up from your hotel/airport at 0800hrs or upon arrival and depart Nairobi – Passing through the industrial town of Thika and the intensely cultivated farms of the central Kenya. Arrive at the Lodge, relax and refresh then take lunch. At around 4pm start game drive or just relax at the balcony as you enjoy wildlife outside at the watering hole.
Located in the Aberdare National Park, the Treetops Lodge Nyeri tree-house lodge on stilts is famous as the place where Queen Elizabeth II visited as a princess and left as queen.
Originally built in 1932, Treetops Lodge lies in the path of an ancient Elephant migratory route between the Aberdare Ranges and Mt Kenya National park, and is strategically sited right in front of a natural watering hole and salt lick, making it the perfect place to view game.
Treetops is as much a part of nature as it has an ancient tree growing right through the hotel, with the lodge being built around it. It is the perfect fusion of nature and comfort sporting a rustic look that fits right into the Aberdares. Dinner and overnight stay at the Treetops.
TREETOPS LODGE NYERI
Meals & Drinks Included: Lunch, Bottle Water, Dinner
Day 2:Visit Thomsons Fall on your way to Lake Nakuru
After breakfast have your last views of the wildlife at the watering hole then depart the lodge passby the equator and the famous Thomsons Falls for picture session then drive to Lake Nakuru National park to arrive in time for lunch.
Lake Nakuru's fame is anchored on its flamingo's and the over 400 species of birds found here. The lake itself is a soda lake on the floor of the rift valley. The sight of the at times millions of flamingos is quite spectacular. From a distance the lake appears ringed in pink. The Lake has also earned a reputation as an important haven for endangered species- particularly the Rothschild Giraffe and the black and white rhino. Lions, waterbuck, buffalo and baboons are all residents here. Evening game drive then dinner and overnight stay at Flamingo Hill Camp.
Flamingo Hill Camp
Meals & Drinks Included: Lunch, Breakfast, Bottle Water, Dinner
Day 3:Visit the Famous Masai Mara National Reserve
After breakfast depart Lake Nakuru with game drives enroute and drive though the Great Rift Valley to arrive at Narok Town in time for lunch. Later proceed to the Lodge and upon arrival you can choose to relax by the swimming pool or choose to have Nature walks with Masai Morans or visit Masai Village, thereafter dinner and overnight at Mara Sopa Lodge.
Mara Sopa Lodge
Details
Meals & Drinks Included: Lunch, Breakfast, Bottle Water, Dinner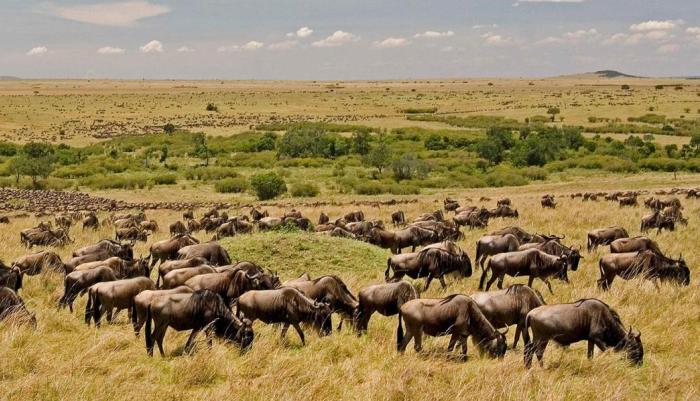 Day 4:Game Drives in Masai Mara
After breakfast proceed for a full day game drive with packed lunch served at the banks of the famous Mara River. The Mara offers wildlife in such variety and abundance that it is difficult to believe: over 450 species of animals have been recorded here. You will easily see lions, rhinos, hippos, crocodiles, giraffe, wildebeests, zebras, buffalo, warthogs, hyenas, jackals, wild dogs, buffalo, leopard, many kinds of antelopes and heards of elephants. It is in the Mara that perhaps the most spectacular event of the natural world takes place. This is the annual migration of millions of wildebeest and zebra from the Serengeti (Tanzania) in search of water and pasture. Following on their heels are the predators of the savanna- lion, cheetah, wild dog, jackals, hyenas and vultures. Dinner and overnight at Mara Sopa Lodge.
Mara Sopa Lodge
Meals & Drinks Included: Bottle Water, Dinner, Breakfast, Lunch
Day 5:Visit Hells Gate National Park and sleep in a Crater
After breakfast depart Masai Mara for Naivasha and arrive at the gorgeous Crater Lake Camp in time for lunch.
Later drive to Hell's Gate National Park where you have the option of a game drive in a Safari vehicle or ride bikes into the Park while taking selfies with the wildlife to be found here. Cycling in the Park is a great adventure as you get to ride the bikes for 8 Kilometers before resting at a ranger's post. After a brief stop at the rangers post you leave the bike and start a walking safari (optional) for 3 hrs. Enjoy the spectacular views of the gorge. The park provides a variety of wildlife, unusual flora and many species of birds and is the only Kenyan Park where climbing, walking and biking are allowed. Animals seen here include Giraffes, Bushbucks, Dikdiks, Gazelles, Gnus, Hartebeests, Impalas, Klipspringers, Buffaloes, Hyraxes, Zebras, Hyenas, Jackals, Mongooses, Baboons, Monkeys and Porcupines amongst others. Depart the park and drive back to Crater Lake Camp for Dinner and overnight. Meal Plan: Breakfast, Lunch, Dinner & Drinking water.
NB: You can passby Lake Naivasha for an optional boat ride payable direct to the facility.
Crater Lake Camp
Meals & Drinks Included: Lunch, Breakfast, Bottle Water, Dinner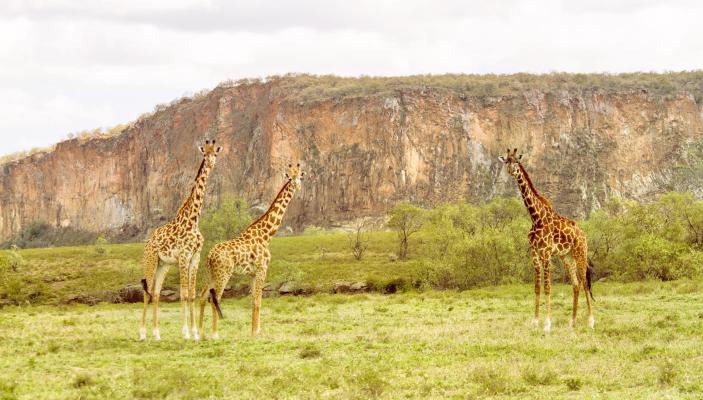 Day 6:Visit Amboseli the Home of Elephants and Mt. Kilimanjaro
Take breakfast at 8am then have a walking safari in the Crater Lake sanctuary where you get very close to wildlife like giraffes, zebras, impalas and many others. Later depart the Camp by 10am and proceed to Amboseli National park with lunch break enroute. Arrive at AA Lodge Amboseli in time for dinner. Meal Plan: Breakfast, Lunch, Dinner & Drinking water. Amboseli offers a splendid view of both the animals (the elephants, lions and cheetah) and the scenic beauty. Dinner and overnight at AA lodge Amboseli.
AA lodge Amboseli
Meals & Drinks Included: Lunch, Breakfast, Bottle Water, Dinner
Day 7:Game drives in Amboseli with great views of Mt. Kilimanjaro.
After breakfast, proceed for a game drive with packed lunch to be taken at observation hill where you enjoy the glistening majestic snow cap of Kilimanjaro and the wonderful herds of elephants seen at a bird's eye view. Amboseli National park is one of the most popular wildlife sanctuaries in Kenya. It is situated close to Kenya- Tanzania border, The Park lies at the foot of Mt. Kilimanjaro, the highest mountain in Africa (5,896m) whose snow-capped summit presents a splendid view on clear days. Amboseli National Park is often referred to as "The home of Elephants' some of the largest Elephant herds are found here. The Game Park also contains vast groups of Zebras, Wildebeests, Giraffes, Buffalos, Hippos and Antelopes. Also to be found in Amboseli are lions, leopards, Cheetahs, Rhinos and many species of plain game. Meals and overnight at AA Lodge Amboseli.
AA lodge Amboseli
Meals & Drinks Included: Lunch, Breakfast, Bottle Water, Dinner
Day 8:End the adventurous safari with Unforgettable Memories
This morning we rise early and after breakfast drive direct to the park for good views of Mount Kilimanjaro before clouds build up over the summit. Amboseli is an excellent place to view a multitude of wildlife, including everything from Lions, Wildebeests, Giraffes, Baboons, hyenas, elephants among other wildlife and birdlife. Later depart the park via Namanga, Kenya-Tanzania border route, with lunch en route to Nairobi. Drop off at a Nairobi Hotel of your choice or at Airport for your flight to the next destination marking the end of the safari with unforgettable memories. We strongly recommend a flight departure beyond 2000hrs to avoid worries of missing your flight. Meal Plan: Breakfast, Lunch & Drinking Water.
Meals & Drinks Included: Lunch, Breakfast, Bottle Water
Included
> Transport on a landcruise tour Jeep ideal for game viewing and photography
> Full board accommodation
> All park entrance fees
> All game drives as detailed in the itinerary
> 2 liter of bottled water per day
> Personalized service
> Services of a qualified Chinese/English speaking guide.
Excluded
Balloon safari at a cost of USD500
Boat safari at Lake Naivasha
International flights/ Visas
Masai village visit
Items of a personal nature
Any other extras not detailed in itinerary